The most difficult type of furniture to design successfully is the chair; it must be not only strong and durable, but comfortable and graceful as well. The curved back spindles have become a Swift trademark. Although difficult and time- -consuming to make, this design adds significantly to each chair's comfort and style.



Click on any underlined caption below to view a larger image and more information.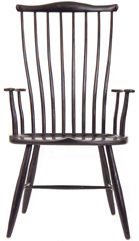 Pomfret Windsor Armchair

Uniquely our own, the Pomfret Windsor combines the comfort of a contemporary design with the classic lines of earlier Windsors. Available in natural hardwood finishes or the Sturbridge Paint Colors, this is a most versatile chair.

Pomfret Windsor Sidechair

The sidechair is slightly smaller than the armchair, but has generous proportions. It can also be used as a desk chair.




Our Windsor chair construction differs from the antiques in that we use hardwood rather than pine for the seats. The legs and spindles are "let" through a 2" block of cherry, then glued and wedged. The resulting joint is extremely strong and allows us to float the arms, giving the chair visual interest as well as improving the comfort of the back.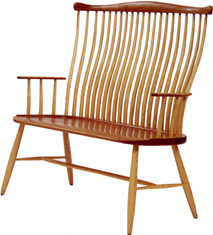 Pomfret Windsor Settee

An extended version of our armchair, the settee is available in standard lengths or can be made to order. Available in several finishes.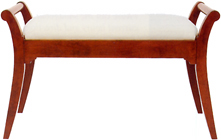 Cushion Bench

Our versatile bench can be used in almost any setting. Available in several finishes.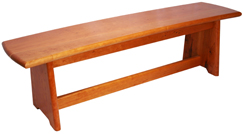 Curved Bench

A beautiful, functional bench designed in the early 70s, a classic that has proven to be a timeless design.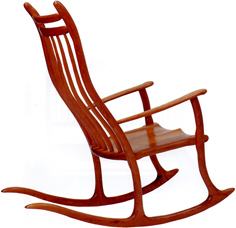 Nantucket Rocker

Certainly a fine example of the art of chairmaking, our rocker reflects the quiet beauty of the island where it was designed. Curved spindles and a sculpted seat make this chair a pleasure to use for relaxed reading, feeding the baby, or perhaps a quick nap.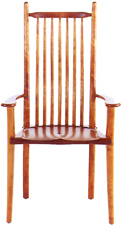 High Back Chair

Our first chair design shows the combined influences of Shaker and Queen Anne styles. Very comfortable, it has been in steady demand for over fifteen years.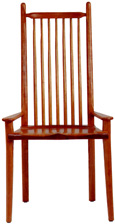 High Back Chair, Low Armrests

The High Back Chair is also available in a version with lower armrests.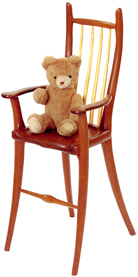 Youth Chair

This chair, originally designed for our son Daniel on his first birthday, can typically be used to age seven or eight. It is suitable for daily use at the table, or as an accent piece ready for the occasional younger visitor.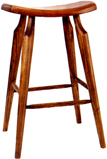 The Swift Stool

Clicking on the underlined caption above will show the two varieties of one of our most popular pieces, our Swift stool.

Squam Chair

A small chair with big comfort. Designed for a customer on Nantucket's Squam Road who had a beautiful water view and needed a comfortable chair that would not block the view.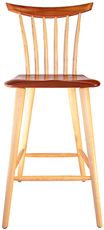 Riley Grace Stool

Our first stool with a back designed for comfort at your bar or kitchen counter. Named for our first customer to place an order. (Well, actually it was her grandfather who paced the order but his name was Stephen Swift and, no, he was not related.)