I admire antiques and enjoy visiting the many fine public collections that we have here in New England. Beds are perhaps the single type of furniture not well represented, and it is difficult for a modern-day furnituremaker to look to older beds for inspiration. In fact, my bed designs have evolved more from our chair work than anything else."


--Stephen Swift




Wood selection has an interesting effect on these designs. Lighter woods make the beds look more contemporary; darker woods give a more traditional appearance. Our beds, designed to be easily shipped and assembled, are available in your choice of ash, oak, cherry, or mahogany.


Click on any underlined caption below to view a larger image and more information.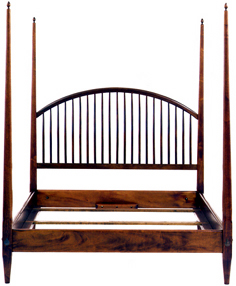 Four Post Spindle Bed

Our most popular bed is a unique combination of tall tapered posts and spindle headboard. Available in all standard sizes, this design goes equally well with antiques or contemporary furnishings.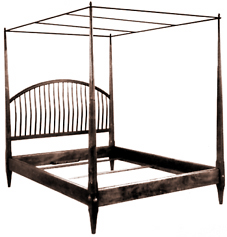 Our four post beds can be ordered with canopies.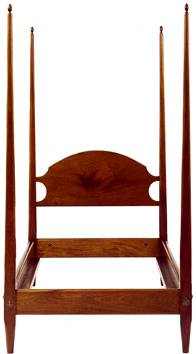 Four Post Solid Bed

For our own version of the "Pencil Post", we select figured wood for the the headboard, and gently taper the posts to a round, 1" diameter at the top.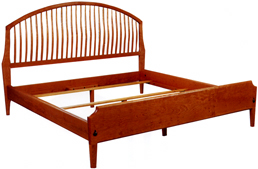 Spindle Bed

This is a graceful bed designed so that the top of the mattress is on line with the bottom of the spindles. We carefully select the footboard for interesting grain and color.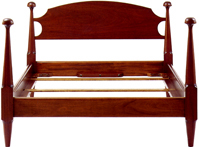 Mushroom Bed

Successful in all sizes from twin to king, the mushroom bed has a presence defined by the 4" turned posts.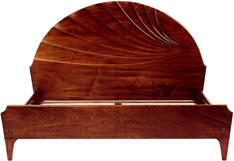 Scallop Bed

This bed speaks for itself. The grain in the headboard, which is carved from a 2"-thick piece of mahogany, dips and swirls with the shell design in a pure celebration of the beauty of wood.